This Is Teen Mother Choices!
All teen moms who participate in a TMC program receive:

A one-to-one mentor and coach

Assistance in setting and achieving short and long-term goals

Life skills training through weekly LifeSkills Workshops

Generous support through the Incentives Program
About Teen Mother Choices
Since 1989, Teen Mother Choices (TMC) programs have successfully served many young mothers towards independence by providing guidance and support through her own Christian mentor. All TMC Licensees have been trained and equipped by Teen Mother Choices International.

This ministry serves teen moms who have already given birth and are now parenting. Eligible participants between the ages of 13-23 may apply. The program's leaders and mentors demonstrate the love of Christ with grace, truth and accountability . The ministry empowers teen mothers to become independent functioning members in their community and stay off government assistance. Each young mom goes through an application process and commit to:
Attending weekly Lifeskills Workshops™ tailored to the five roles of a teen mother. Workshops are based on Biblical principles including parenting skills, financial management, monthly budgeting, educational guidance, job skills, healthy relationships and more.
Setting individual goals that will propel her towards success and independence.
Developing a relationship with their mentor who comes alongside to offer guidance and support.
Delaying further pregnancies while they are in the program (an average of three-years).
Committing to work and/or go to school full-time.
Christa March, Founder and CEO of Teen Mother Choices, never waivers in her passion to serve teen moms. Her own story is one of hope and purpose after facing an unknown future as a pregnant teen. Through the redeeming love of Jesus, Christa's story gave birth to the first Teen Mother Choices program in 1989 and has since impacted the lives of over 1,700 teen moms, their children and generations to follow with the same hope, purpose and future.
"Since our very first Teen Mother Choices program in 1989, we've been equipping God's people to be His hands and feet, loving and serving teen moms who have chosen life for their children. We are now starting to see the impact on the next generation!"
Christa March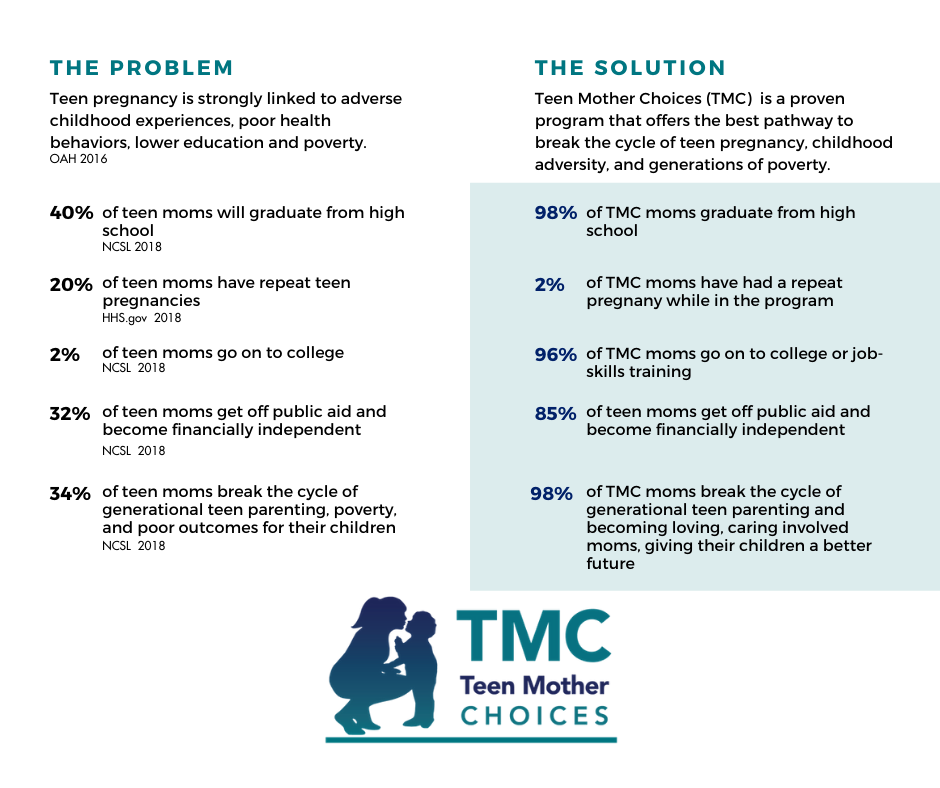 Principles of the TMC Program:
Jesus' life and teachings shape everything we do; from how we work to how we treat all people. Colossians 3:17
Every child is created in the image of God. All children are an inheritance from God and a blessing from His hand. Psalm 139:13-14
God's people are called to love and care for His vulnerable, little ones in need, without discrimination. Matthew 18: 1-6
The local church is equipped with every resource –time, talent and treasure, to care for teen moms. 1 Peter 4:10
Mature women within the church are well qualified to serve as mentors to teen moms. Titus 2:3-4
The church stands as a beacon of light and refuge when caring members come alongside teen moms to equip and encourage them into becoming responsible, loving parents and functioning members of their community. Matthew 5:16
A Christian mentor will walk alongside of you to offer guidance and wisdom.  The mentor is a godly woman that will demonstrate the love of Christ and is willing to help you overcome many obstacles.



Attend weekly Lifeskills Workshops, get equipped and be in community with other teen mothers.  Some of the workshops include Parenting Skills, Budgeting, Educational Guidance, Healthy Relationships and Lifestyles, Job Skills, Cooking and more!
You will be empowered as we will help you set and walk you through your personal, educational, financial, physical and spiritual goals!



​Are you in need of childcare, transportation or diapers? Our Teen Mother Choices programs offer a unique service that will help you with the cost of childcare, transportation or other needs so you can continue furthering your education and/or work full-time.